It's time to start ordering your firewood for Winter to ensure delivery date before Christmas! Pop in to browse options or call us on 01692 402515
---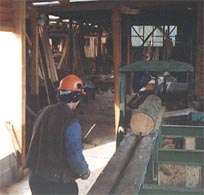 Richardson's Sawmill was formed in 1969 by brothers Mervyn and Kenny Richardson and they began cutting pit boards for the mines, since then times have changed and Kenny's son Neil joined the partnership in 1985, the company now saws traditional building materials such as beams, scantlings, roof timbers, floor boards, and so the list goes on, in particular the sawmill specialises in long and wide timber in hard and soft wood, also available from Richardson's Norfolk Sawmill is varying species of timber supplied to cabinet makers and wood turners. Their sawmilling department also caters for the DIY and garden enthusiast with, weatherboarding, shelving and all sawn timber. Richardson's Sawmill stocks all English hardwoods.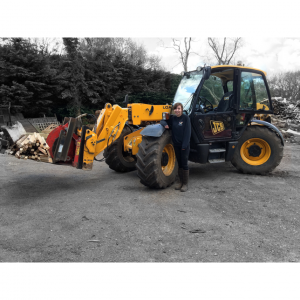 Richardson's Sawmill pride themselves on the fact that their timber is HOME GROWN, meaning that all their timber has been grown in the UK. This they feel is of uppermost importance as so many other sawmills have actually stopped the traditional sawing and rely on imported timber.
The family firm will always greet you with a smile, and your order will be individually processed therefore the size of the timber that you want will be the size you get, often sawn while you wait. So if you're after a 5′ x 1″ x 1″ or a 20′ x 24″ x 24″, chances are, you can have it now, at Richardson's Sawmill. As well as everything that is mentioned here, Richardson's Sawmill are keen to point out that they are always prepared to pay top prices for all species of hardwood, i.e. yew, ash, oak, walnut, cherry, holly etc other species also considered.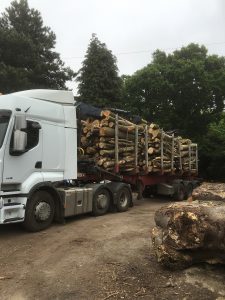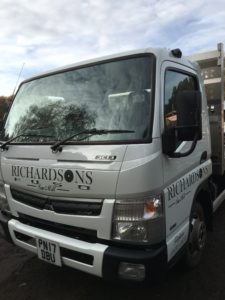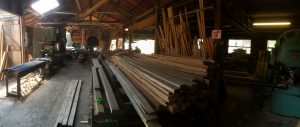 Much of Richardson's Sawmill work revolves around the traditional building work. Barn Conversions, Timber Framed Houses and Renovation Work.
Also available from Richardson's Sawmill is Firewood. Over the past 10 years, due to many factors, the sales and installation of woodburning stoves have increased. Richardson's Sawmill are therefore pleased to be one of Norfolk's leading firewood suppliers, processing in excess of 1500 tons of firewood per year.