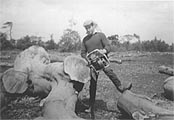 Visit Richardson's Sawmill at Edingthorpe and you'll find it hard to believe that in 1969 the business started when the two brothers were selling firewood door to door. They ran their firewood round from 1960 to 1969, during which time they gained enough knowledge of the timber business to set up their own Sawmill. At first, working from rented premises at Witton with one band saw, one lorry and one mobile timber crane, their main work was tree felling and sawing the timber into pit props for the coal mining industry. Their business grew steadily and in 1973 they moved to their present site on Edingthorpe Heath.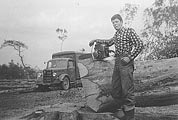 First though they had the massive task of clearing the dense scrub and undergrowth before building their new sawmill sheds and installing their massive saws and equipment. At this time their business was feeling the effect of the miners' strikes and as the demand for pit props fell off the Richardson brothers had to diversify into other timber products, including fence panels and posts. It was in fact the sturdy construction of their fence panels, all made from quality timber, which earned them a countywide reputation with both trade and private customers and following a further wave of mining strikes they decided to drop pit prop manufacturing altogether and concentrate on fencing.
In 1985, Neil Richardson, Kenny's 16 year old son joined the family business and today plays a major part in the day to day running of the Mill. The quality of their work and competitive pricing has main tained a constant flow of orders even during the recent long period of trade recession and the family are always introducing new ranges and ideas in order to keep ahead.