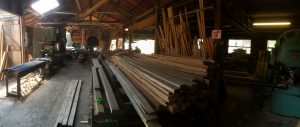 Wood for D.I.Y. – For all those weekend projects – Chicken Runs, Rabbit Hutches, etc. Richardson's Sawmill always have a good selection of cheap timber available.
For the woodturner, Richardson's Sawmill have a good selection of English Hardwoods .
       WANEY EDGE CLADDING AVAILABLE.
LARGE PACKS OF ALL OAK AIR-DRIED AND READY TO PURCHASE.